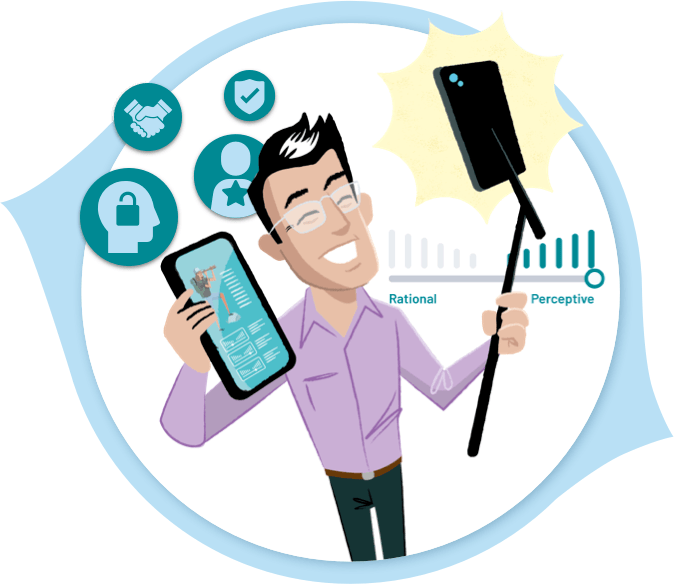 Free Personality Test -
Know Your Personality Traits
Unsure of your greatest strengths and capabilities? Tired of underselling your skills and potential? Looking to discover which jobs are a perfect fit for your personality type and working style?
Take our free personality test to discover what truly motivates you and the dominant personality traits that make you who you are.
It's free. It's scientific. And, it's the best 10 minutes you'll ever spend on your career!
Take the Test for Free Now
Fast Track Personal Growth
By Understanding Yourself Better
Are you an ideas driven Pioneer, or an influential Broker? A competitive Achiever or a strategic Director? Or maybe you're more of a task-focused Anchor or problem solving Analyst? You might be a skilful Shaper or a supportive Mentor. Who knows?
Fire up our personality database test to determine your personality type. Our scientifically-backed results are comprehensive and cover everything you need to get the best out of your life and career, including Personality Traits, Working Styles, Team Dynamics, Blind Spots, Favoured Careers and how to fast track Personality Development.
The PeopleHawk® Personality Types
So, what's your Personality Type?
Using this approach as the starting point for candidates, PeopleHawk® developed its own set of scientifically-backed personality types to help candidates understand their characteristics, and indeed those of others.
1. Pioneer
Pioneers enable change and adaptation, and pay attention to the changing environment. They spot important trends, express ideas, anticipate change, and tolerate uncertainty and risk.
2. Broker
Brokers enjoy making new contacts and maintaining existing relations. They are communicative and open. They are able to exert influence and make use of their networks to get results.
3. Achiever
Achievers are task-oriented and focused on work. They make high demands on themselves and others. Competitive and able to tolerate a lot of stress, they are continuously aiming high and measuring their results.
4. Director
Directors are long term thinkers, focused on the future. They will naturally seek to clarify expectations through processes such as planning and setting goals. They tend to be an initiator who defines problems, selects alternatives, assigns roles and tasks.
5. Anchor
The Anchor maintains the structure and flow in a system. They are trustworthy and reliable, and focused on tasks such as relieving workload, organising and coordinating efforts of the team, dealing with crises and technological and logistical issues.
6. Analyst
Analysts know what is happening by breaking problems apart to see all the alternatives. They focus on gathering information, dealing with facts, being rational, and looking at situations from different perspectives.
7. Shaper
The Shaper encourages cooperation and teamwork. They are typically process-oriented, contributing to the development of cohesion and morale, gathering information, establishing participation and promoting problem solving by the team itself.
8. Mentor
Mentors are engaged in the development of people through a caring and compassionate approach. They are helpful, caring, sensitive, approachable, open and fair. Mentors are understanding and take the time to listen to others.
Rate your Personality Traits.
Am I an introvert or an extrovert?
As well as your character type, our psychometric test produces a 6-page personality guide on the types of behaviour you typically adopt in a work environment. We even benchmark how you rank across the 12 personality traits and working styles that are most considered during candidate selection and college admissions.
See what you get